So, today is December 9th. It's crazy how fast the new year is coming. Today at around 9:45 PM I weighed in at 370 pounds. WOW. Now, this isn't the largest I've been. My heaviest weight was 548, my best adult weight was 297, and yet… Here I am 73 LBS more than my best weight, just 7 years ago.
Here is a quick rundown on how I went from 548 to 297.
I FELT AWFUL. My back was on fire. I couldn't breathe. I have asthma and I had horrible sleep apnea. My quality of life at 548 was like walking around in a coffin. So I applied for and went through the process to have Gastric Bypass Surgery. However, my medical professionals told me that people under 400 pounds reduce the risk of dying during or after the surgery substantially (Don't remember facts and figures) and I was like… OK. I went from 548 to be 395 on the day of my surgery. This took about a year and a half.
After surgery life got so much easier, in managing my relationship with food and losing weight. When I was around 300 Lbs, I met my husband. We weren't always walking with the lord so even before we were married we got pregnant, not once but twice within a short time. We lost both. The second one was really bad. I was nearly six months pregnant and had just celebrated my birthday and as a gift to myself, I learned that the baby was a girl. The loss of that child-led to A LOT OF Drinking, anger and eating anything in sight.
Not long after that I got closer to the Lord and accepted Jesus Christ as my savior and center of my life (despite the trash shack that I can be). I stopped abusing my body with food and booze but I had gained around 30 LBS. Fast forward to a year and a half of abstinence before we got married to two bouncing babies in a three years, I was up to 350 LBS, so why not just slap on another 20 LBS.
"The scale is a true reflection of my relationship with food. Truth hurts."

B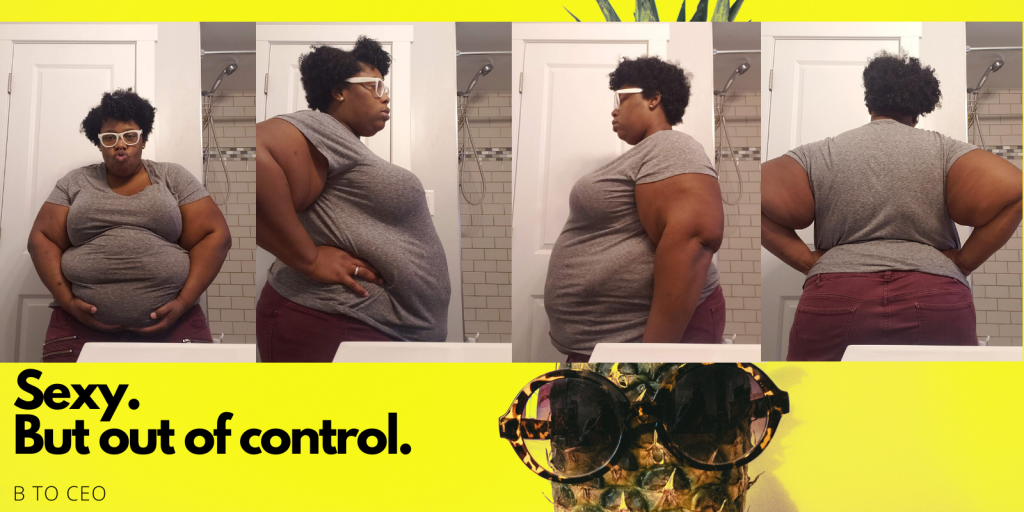 Life is so much easier for me smaller. I'm pretty into myself so the esteem issues come from being self-conscious in a size exclusive society. At 297 I enjoyed shopping, clothing, outings with friends, flying, and sex a lot more.
So now. Here I am 73 LBS more than my best weight and 120 LBS from my ideal weight. So what am I gonna do about it? Not exactly sure, but I know that my relationship with food is part of the challenge. Today was the first day that I was going back to the process I committed to when I lost 153 LBS.
What was that process you ask?
Therapy – I need to talk to someone about why I might be abusing food again. I have some ideas but getting clarity is critical. All of my food problems stem from my emotional problems.
Self-care – I need to spend some time working on myself. I spend all of my time taking care of my family and leave very little energy for myself.
Bye Bye Fast & Trash Food – So, I think there is a place for these pleasures, but they need to account for no more than 1% of what I consume. 370 Lbs makes chips taste a lot less delicious.
Self-management & measurement – So, I need to check in with myself. That means weighing myself and keeping a food & water journal. It's not easy to deny data. The lack of self-awareness I have puts me at risk. I have used My Fitness Pal in the past. It's free!
Community – That is where you come in. Just having a buddy (give or take a few thousand) makes the process more enjoyable.
I KNOW! You don't have to point it out. I didn't say anything about fitness or exercise. I hate it. That's why. The only thing that I plan to try is 30 minutes of cardio daily. I plan to accomplish this by dancing in my basement. I'm not yet committed to this. I'll let you all know how it goes.
So as you can see. I need to get my stuff together. I'm ready to reap the benefits that come along with shedding the pounds.